Abstracted / Family
Abstracted / Family, 2019
Several different items, including abstract paintings, family photographs, documentary films, the artist's notes, and a dining table and chairs, are arranged inside the exhibition space. Rather than being individual artworks, together these elements make up one installation that visitors are free to walk around.
The different elements of this work are held together by video displays at three locations. Their composition is based on the assumption that some visitors watch the story they tell - in about 1 hour and 50 minutes in total - entirely, while others watch only parts of it. In either case, the work's background and connections between its components gradually become clear as visitors continue to walk around the installation.
In settings that vary between the everyday life scenery of a typical suburban house and the acting environment of a theater stage, the protagonists illustrate their family backgrounds and personal stories of living in Japan as children of Japanese-foreign parents. Different from simple documentary footage, here narration styles and forms of address between the protagonists vary from one scene to the next.
While there exist stories that only those involved can tell, the work examines at once how stories can be told by others that are not involved. As viewers, we may choose to treat such matters that don't concern us directly with indifference, but we may as well take interest and empathize, and talk about them with other unconcerned persons.
TANAKA Koki
Born 1975 in Tochigi, Japan
Based in Kyoto, Japan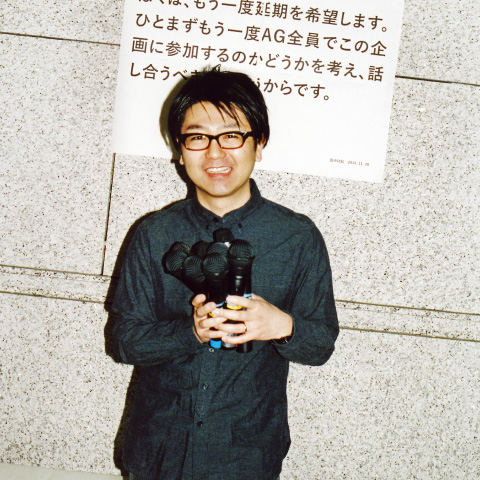 Through various methodologies such as documentary style video, installation work, critical writing, and also curating public talks and gatherings, Tanaka Koki explores the question of how people can share a past, present, or even future experience or events as one's own. He assembles temporary communities for his film and captures people's behavior including slippages and missteps; it unlock the very considerations to the social, the historical, and the institutional aspect of these human activities. In parallel to his artistic production Tanaka is vigorously developing his activities as a writer and speaker, following through on his critical intuition, which has led him to investigate the existing frameworks and institutions surrounding contemporary art, and to attempt to redefine them.
Selected Works & Awards
2018
Vulnerable Histories (A Road Movie)

(solo), Migros Museum für Gegenwartskunst, Zürich, Switzerland

2017

Skulptur Projekte Münster, Münster, Germany

2017

57th Venice Biennial,

VIVA ARTE VIVA

, Venice, Italy
Aichi Prefectural Museum of Art (10F)
Address
Aichi Arts Center 10F
1-13-2 Higashisakura,Higashi-ku, Nagoya
461-8525 JAPAN
Open
10:00-18:00
(Fri -20:00)
Admission until
30 minutes
before closing
Closed
Mondays (Except for National Holidays)
Barrier free
Free rental of wheelchairs.Please request to information.
Access
・5 minutes on foot from Sakae Station on the Higashiyama Subway Line or Meijo Subway Line.
・5 minutes on foot from Sakae-Machi Station on the Meitetsu Seto Line.

Inquiries
+81-52-971-6111