... imaywanpas quidakuwakmi ... / ... but you can stay with my stuff …
...imaywanpas quidakuwakmi.../...but you can stay with my stuff... (mural with dog and shrunken head)
.....imaywanpas quidakuwakmi.../.....but you can stay with my stuff...(hands)
ÑUQA KAUSAKUSAQ QHEPAYKITAPAS / I WILL OUTLIVE YOU
... imaywanpas quidakuwakmi ... (... but you can stay with my stuff ...), 2017
Photo: Arturo Kameya
Courtesy of the artist and GRIMM(Amsterdam/New York)
The installation consists of numbers of ceramic objects in the front gallery and the film in the back space.
Pottery, pots, corn, human limbs and other objects are artifacts (an indigenous craft produced by the hands of humans) created by artist. The video travels within the ceramic scanned surfaces that resembles a landscape, and overlapped the monologues of the man. The man who died more than 1200 years ago is a real person, and the artist came to know him while researching artifacts.
Peru has a history of repeated prosperity and downfall of civilizations and border redrawn many times by conquerors from abroad. And today, we can see in museums all over the world the relics representing the earlier cultures looted and desecrated during the colonial period, but they have been incorporated into exhibitions as part of the colonial period.
The artist portrayed the victim as a ceramic portrait and filmed his life, allowing him to outlive in the future.
Claudia MARTÍNEZ GARAY
Born 1983 in Ayacucho, Peru
Based in Amsterdam, the Netherlands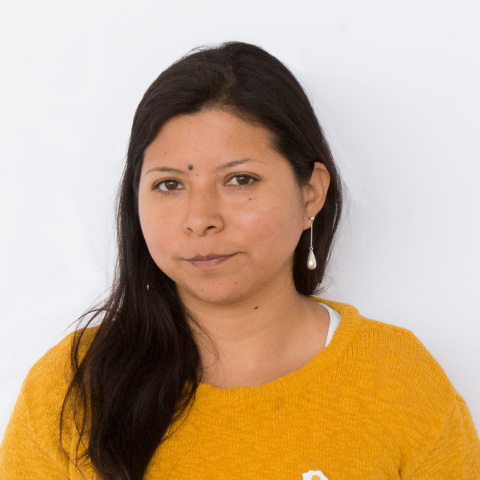 Claudia Martínez Garay's artistic practice is concerned with socio-political issues related to Peruvian history. She focuses on how colonialism has influenced the use of tools from everyday life, questioning how such objects are created, preserved, transformed, and circulated. Her work is the result of research into how images are strategically built so that people will interpret history in a certain way; she reproduces, transforms, deconstructs, and reconfigures iconography used in war and terrorism, and motifs reminiscent of traditional South American crafts and rituals from before European invasion. The moment of (un)recognizing history is where the artist wants to situate her work, as she delves into (post)war and (de)colonial issues, and the relationship between memory and remembrance.
Selected Works & Awards
2018

12th Shanghai Biennale,

Proregress—Art in an Age of Historical Ambivalence

, Power Station of Art, Shanghai, China

2018

4th New Museum Triennial,

Songs for Sabotage

, New Museum, New York, USA

2015
4th San Juan Poly/Graphic Triennial, San Juan, Puerto Rico
2014

12th Bienal de Cuenca, Cuenca, Ecuador

2011
Art on the Go, Contemporary Collection of the Lima Art Museum MALI

, Estação, Sao Paulo, Brazil