Shylight
Shylight, 2018
Photo: GJ.vanROOIJ
White silk constructions slowly unfold and retreat as they go up and down. A precise framework and mechanism enable the piece to operate gracefully as if choreographed. Based upon detailed observation and analysis, Shylight has been designed to mirror the sleeping movement of floral species that unfold according to the amount of available sunlight and the surrounding temperature. People have been representing the beauty of nature in artwork such as in paintings and sculptures for centuries with careful analysis. Studio Drift attempts to pursue this endeavor whilst creating a new form of art through the use of digital technology.
Studio Drift
Established 2007 in Amsterdam, the Netherlands
Based in Amsterdam, the Netherlands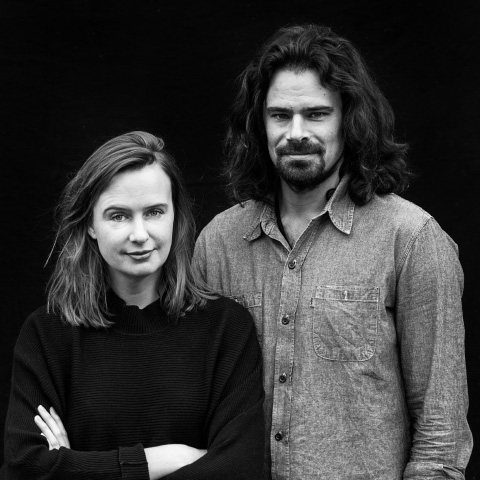 Studio Drift is an artist collective established in 2007 by Lonneke Gordijn (1980) and Ralph Nauta (1978). Gaining knowledge from nature and using contemporary technology, Ralph and Lonneke together with their team develop experiences and performances that unite people on an emotional level with themselves, their environment and other people. The team consists of artists, designers, architects, engineers and programmers. Studio Drift works across a range of media, navigating the boundaries of art, technology and mankind.
In recent years, their cross-disciplinary practice has moved towards large-scale installations that translate complex natural processes into performative environments such as Franchise Freedom, their flying sculpture with hundreds of drones. They are well known for their attempts to poetically articulate data extracted from natural phenomena, such as the flight patterns of birds or the structure of flowers blooming.
Selected Works & Awards
| | |
| --- | --- |
| 2019 | Studio Drift: Elemental (solo), Amos Rex, Helsinki, Finland |
| 2019 | Studio Drift: Meadow (solo), Newfields, Indianapolis, USA |
| 2018 | Studio Drift: Coded Nature (solo), Stedelijk Museum, Amsterdam, Netherlands |
| 2017 | Franchise Freedom, Art Basel | Miami, Miami, USA |
| 2017 | The Armory Show, PACE gallery, New York, USA |
Toyota Municipal Museum of Art
Address
8-5-1, Kozakahonmachi, Toyota, Aichi
Open
10:00-17:30
Admission until
30 minutes
before closing
Closed
Mondays (Except for National Holidays)
Access
・15 minutes on foot from Toytashi Station on the Meitetsu Mikawa Line or Shin-Toyota Station on the Aichi Loop Railway.
・10 minutes on foot from Bijutsukan-kita Bus Stop on the Meitetsu Bus.
・Approximately 10 minutes from the Toyota I.C. of the Tomei Expressway.
・Approximately 15 minutes from the Matsudaira I.C. of the Tokai-Kanjo Expressway.
・Approximately 20 minutes from the Toyota Higashi I.C. of the Tokai-Kanjo Expressway.
Inquiries
+81-52-971-6111